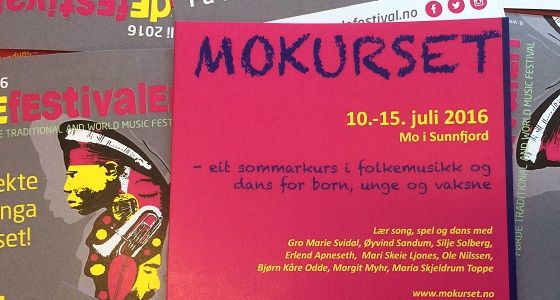 MOKURSET
9th-14th July 2017
- a summer school in Norwegian traditional folk music for people of all ages!
Mokurset is an annual summer school in Norwegian traditional folk music. Since 1984, over 2,000 students between the ages of 9-70 years have attended Mokurset. Many of the students originate from the Western part of Norway, but also from the rest of the country. We've also had visitors from Sweden, UK and USA, and now we hope to see YOU there!
The teachers at Mokurset include some of the finest musicians in Norway, who have broad experience both as tutors and as performing artists. At Mokurset you get to learn Norwegian traditional tunes by ear, and you will also be guided in traditional style and technique. There are classes for all levels, and daily concerts, dance and other social activities which students and teachers alike participate in. Both teachers and students are accomodated at the school campus.
In 2017 Mokurset will offer classes in:
Hardanger Fiddle (with Alexander Røynstrand, Erlend Viken, Maria Skjeldrum Toppe, Mathilde Skjæret)
Traditional Folk Song (with Malin Alander)
Fiddle (with Arne M. Sølvberg, Mari Skeie Ljones, Ingeborg Sommer)
Diatonic Button Accordion (with Ole Nilssen)
Chromatic Accordion (with Ole Nilssen)
Traditional Folk Dance (beginners course) (with Anna Gjendem)
Masterclass in Hardanger Fiddle and Fiddle (with master Bjørn Kåre Odde) in co-operation with Førdefestivalen.
Fees:
Ordinary instrument and song classes: NOK 3,200
Traditional Folk Dance: NOK 3, 200
Masteclass in Hardanger Fiddle / Fiddle: NOK 3,200
-Sibling discount NOK 400
The fee also includes the week long stay at the Mo Campus, where you will be accomodated and served all meals.
Would you like to attend Mokurset 2017? Please fill out the registration form BEFORE 9st June
If you have any questions, please contact Ingrid Heieren by either mail or phone.
Mail: ingrid(@)folkemusikklaget.no | Phone: +47 958 26 237
or Sogn og Fjordane Folkemusikklag. post(@)folkemusikklaget.no
Before you come to Mokurset, you might want to visit Førde International Folk Festival, July 5th-9th. This is the largest festival of its kind in Scandinavia, and you'll get to meet artists from all over the world. www.fordefestival.no
Please follow this link to read more about the Sunnfjord area, accomodation and how to get here.